Episode 2… What could be in store for Usagi and Misaki?
Summary
Usagi is an author of Japanese literature, and boy's love manga on the side, who cannot meet his deadlines to save his life. And his editor, Ms. Aikawa, leaves the apartment on purely monster drinks and no sleep with his document in order to remind long time fans he's still the same old Usagi in different ways. Or to tell us not to get a career in writing right at the beginning of the episode- But who can tell?
Of course, Mizuki is still hell bent on condescending Misaki at every turn. Misaki cannot even bake a cake without Mizuki telling him to stop wasting time! Mizuki, sitting on a couch is wasting time- baking a cake is spending time ensuring you have dessert after dinner. Big difference man! I mean, I can understand your looking down on Misaki: Misaki is at the 4th year of university and has not really decided what job he will start off with, while Mizuki has barged into Usagi's apartment and is basically staying there for free, and has yet to compare his career to Misaki's… Hell, we don't even know beyond something to do with a German translation what Mizuki does.
Misaki in this episode begins to correct that by applying to work at the publishing company that Usagi submits his work through. He starts as a part time editor, and considers moving to full time when his studies are complete! He thinks it would be fun. Don't watch Sekaiichi Hatsukoi, nor visit their shojo manga department, if you know what is good for you Misaki, might scare you off. Actually… Never mind, go talk to them! Your sleep schedule will thank you. (Sekaiichi Hatsukoi is a manga/anime by the same author that takes place in the Junjou Romantica universe. So it would not surprise me if we see characters from that series run into Misaki or Usagi).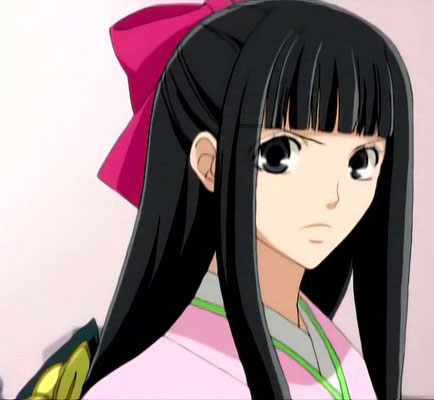 Thankfully, Misaki makes a new friend! Shinnosuke Toudou is a peer at Misaki's school. He was a random character Misaki ran into in the first episode but has now evolved into a friend Misaki can compare anime/manga interests with. They both like Ijuuin-sensei's manga. They both agree to go to his book signing later on in the week. Hmmm… Would this make Ijuuin-sensei Usagi's rival? I hope so! He is a fun character, and I think is designed to poke fans at us fan-girls. Tease us all we like, guys, as we will be back for the next episode anyway! Though will Usagi respond to this new friend better than Misaki's last friend at school? Only time will tell. And an old friend, Usami Kaoruko, comes back to the series. She appeared in one episode of season 2 and developed a crush on Misaki. She is Usagi's half sister from his mother's side.
Misunderstandings lead to Misaki and Usagi kicked out of the house, as you know guests kick the owners out and not the other way around. Yes, if you were looking for "normal" secondary characters, look elsewhere!  Such as a completely different series. This leads to good bonding time between the two, as Usagi comes to the realization that he cannot just hog Misaki to himself if it means getting in between Misaki and Misaki's career goals.
Review
Misaki and Usagi's Relationship: Guess the writers got my review! This episode was excellent in growing their relationship in many ways. I aww'd a few times.
Misaki is shown to care about his relationship with Usagi much more in this episode. We see him get jealous with Mizuki's apparent advances on Usagi, and throughout he shows he cares about Usagi's well being. Coupled with him not running away from Usagi's affections in private at least is an added plus. About time too. Makes me happy to see them growing closer and dealing with things other couples face. Which leads me to…
Career and romance, the two sworn enemies. Often times the career grows at the expense of one's relationship to their romantic partner. What I like about Junjou Romantica is it takes the reverse approach: When does romance take too much of a priority that it gets in the way of a one or the others career? Usagi's father said in the episode, "If it upsets you every time he's not near you, that just means your relationship is too fragile to last, doesn't it?" Too far away or too close can be toxic it seems.
Before it was not a worry as Misaki just went to school, and Usagi was the only one working. Now we are at the point where both are working. Now that Misaki is working for Usagi's publisher, he cannot drop everything and be with Usagi all the time. Furthermore, Usagi might want Misaki to stay with him but is he really being loving if it is at the expense of Misaki having a life of his own? The fact that Usagi deals with these questions, instead of taking Misaki's presence for granted, shows he is finally entering into the role of a partner as opposed to a dominant lover. It is even further grown by Usagi realizing and being willing to accommodate Misaki's wants and needs, even if it means he and Misaki live in different dwelling places. As Usagi said: "I think if our relationship dies when we live apart, it wasn't strong enough in the first place. I still don't intend to let you go, Misaki, but I don't want my selfishness to limit your future either… What do you think you should do?"
Usagi gave Misaki the eight ball. Usagi cannot force Misaki to stay, and it would be selfish to keep Misaki there if it was not mutual, and Misaki's future suffers as a result. He is willing to balance. Thankfully, if things went wrong the developers and designers would have an angry mob of fan-girls outside their houses at night, so I think Usagi is in good hands. For now. Season only just started, and it would be boring if Misaki and him had good times the whole time.
Speaking of careers, the new animators they got for the show are awesome. Glad they fired they old ones, and hired the new ones as the new ones are doing much better. The animation is more polished, facial expressions more refined. Thankfully the characters are not so revised in terms of appearance that no one will know who they are! In fact, many of their appearances remained the same in general. Proof that finer touches can be the difference between good animation and great animation!
Cliffhanger endings- Yay or nay? Well not to spoil, but this one is quite interesting. I like cliffhangers that leave many possibilities open. The ones where "OMG the character is probably gonna die…" and then 6 months later with the new season they do not die? Yeah, it can get old. This is not old. It's new. I like it.
Know what I also like, to end this review? Usagi's Family! Seriously, the newest additions to it are funny! It makes Junjou Romantica even more of a comedy. I will say no more- Just go watch it!
Next Episode: Oh where art thou leading us, or great cliffhanger?!